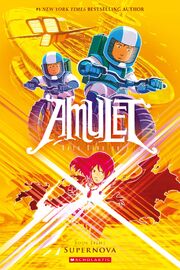 Supernova is the eighth and penultimate installment in the Amulet series. The book was published by Scholastic on September 25, 2018.
Emily's amulet takes over and it's imprisoned by the void Emily travels inside The Void, searching for a way to escape it, where she meets some new friends who hide some dark secrets. Meanwhile, Navin and Aly travel to the Resistance's base on a new planet and are quickly assigned to an apparently easy mission until the stakes are heightened and they have little time to escape the planet.
The book starts with Trellis in memory of his younger self starving and freezing with what he finds out to be his mom. The mom dies, leaving young Trellis alone. In the end, Emily defeats the Elf King for good, removing his mask and leaving him in immense pain, killing him. Ikol begs Emily to keep the Elf King on the throne, much to Emily's refusal. Trellis is now the king.
Community content is available under
CC-BY-SA
unless otherwise noted.