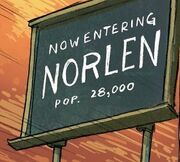 Norlen is a woodland town on Earth, described as a "fairly sizable" city by Karen. The city is also where the Charnon House is located, which Emily, Navin, and Karen eventually inherit from Silas Charnon. According to a sign the family passed on the way to their new inheritance, the city's population is approximately 28,000, and is located near Tehachapi on Ca-58.
History
[
]
Silas Charnon lived here for some time during his life. When his wife, Isabel Charnon died, he retreated into the Charnon House and left Earth to live on Alledia.
In The Stonekeeper, Emily, Navin, and Karen escape to Norlen from the strenuous life of the city after failing to meet financial demands, two years after the death of David Hayes. They inherit an old mansion from Silas and it is here where Karen is abducted by a Arachnopod , and Emily (with a newly-acquired stone) and Navin first enter Alledia.
Trivia
[
]
The town has miniature golf.
The population of Norlen is 28,000.