Another description can be found under Colossus Project.
The Colossus Program focuses on the design, construction and maintenance of highly-advanced mecha as well as the training of pilots for its machinery.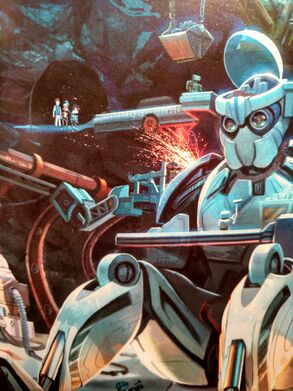 History
The Colossus Program may have originated in Cielis. When the Elves tried to dismantle it, the people in charge were able to continue the project in secret by having the parts of a few units smuggled into the mines(?).
Design
The units, known as Colossus, are maned by three pilots. To launch from the gate, the pilots coordinate the movements of the Colossus through verbal communication and, presumably, mechanical controls, following a "language"[1] such as S.C Code[2].
References
↑

This is probably a nod to programming languages.

↑ At the beginning of Escape From Lucien, Alyson Hunter, Trisha and Robert use this language as they prepare their Colossus unit to be dropped above the city of Lucien. Trisha: S. five to s. two-four, check. Robert and Alyson: Check. Trisha: S. three-two-nine, check. Robert and Alyson: Check.