This article is about the graphic novel series. For the film that is currently in production, see Amulet (film). hyujmn
Amulet (books)

'

Debut

January 1, 2008

Author

Publisher

Scholastic

Volumes

8
Amulet is a graphic novel series created by Kazu Kibuishi and published by Graphix , an imprint of Scholastic . The ongoing series is marketed to grades 3-7, but has also proven to be a critical success with older teenagers and young adults.
The series revolves around a 12-year-old girl named Emily Hayes and her younger brother Navin, and an elf prince named Trellis. Two years after the death of their father in a car crash, their mother moves to the kids' "dead" great grandfather's house. When their mother is kidnapped, the siblings pursue her through a small door in the basement that leads them to an alternate version of Earth, called Alledia.
There are currently eight books in the series, and nine books planned in total. In 2012, after the release of the fifth book, Kazu was diagnosed with bacterial meningitis and the series experienced a two-year hiatus as a result.
Development
[
]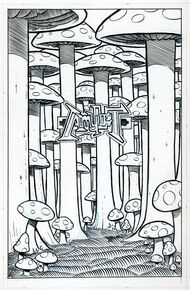 During college, Kazu was prone to making more violent and profane comics, as an attempt to break free from being categorized as a "kids' cartoonist". After graduation, however, Kazu began to see a desperate need for all-ages comics and began further developing the story for Amulet, which he had already begun as a student through artworks that were not presented to publishers.
Kazu was greatly inspired by Hayao Miyazaki's Nausicaa of the Valley of the Wind and Jeff Smith's Bone, both of which he used as a basis for creating his own story. He has also stated that many of the elements, such as the robots and mobile suits featured throughout the story's universe, have been inspired by "Super Robot" television shows during his brief childhood in Japan.
Based on the success of his first published graphic novel, Daisy Kutter, Kazu began to work on the first book of the Amulet series, which he saw to be an immense challenge in transition. He wanted to be able to empathize with both kids and parents as an audience.
Production was halted on the series when Kazu experienced a bout with bacterial meningitis, which saw him in a medical center and later recovering at home, slowly regaining his memories and easing into his daily routine. Kazu continued production after recovery and later released the awaited sixth book in August 2014.
Several artists have been involved in the production of the books. As of the second volume, Jason Caffoe (also a contributor to Kazu's Flight and Explorer anthologies) has contributed as a colorist for the series. Jason helped also to provide story editor notes and organize production.
Volumes
[
]
Reception
[
]
The Amulet series has received generally positive reviews, with many praising the books' artwork and storyline. A Wired review from Jonathan Liu states that "Kibuishi has created a world with a lot of depth" and that "[the series] really draws the reader in." Jeff Smith, creator of the Bone series, also seemed to enjoy the series during its initial release and commented that readers will be hooked three pages into it.
Booklist also remarked that "the action-packed adventure sequences move at an exciting clip" and that the "volume has much to appeal to readers." In addition, the first book, The Stonekeeper, managed a 4/5 rating on Goodreads – a social cataloging site for books.
Awards
[
]
The series has been listed as an ALA Best Book for Young Adults and has been a finalist for the Children's Choice Book Awards, as well as a Will Eisner Award nominee.
Film Adaptation
[
]
Will Smith and James Lassiter, through their production company Overbrook Entertainment were initially developing a film adaptation of the series, with distribution handled by Warner Brothers. Rob Edwards, of The Princess and the Frog had been hired to adapt the screenplay for the film, which was later cancelled due to Jaden Smith's commitment to After Earth.
In 2013, Kazu Kibuishi revealed via Twitter that a new animated film was being produced by an external studio, stating that animatics had been completed. No further info has been released about the film, but Overbrook's adaptation and the animated version are believed to be separate productions.
In 2015 20th Century Fox acquired the rights for an Amulet Film, with the intentions of making it a series. Kazu Kibuishi revealed more confirmation on twitter that the movie would indeed be live action.