Been having this on the backburner for awhile, but I'm generally curious as to what comic books and manga you folks are currently invested in besides Amulet. This is a good way to find out each other's interests and exchange/recommend titles. Please do not share anything of a sexual or excessively graphic nature. Here are some of the titles I'm currently keeping up with: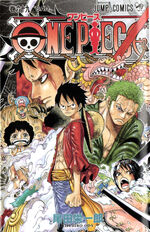 One Piece is, in my opinion, the epitome of adventure manga. There's a lot more to it than just systematic fighting. The series has recently passed the 800-chapter mark, but unlike its long-running shonen contemporaries, the plot is still cohesive with many interesting twists and the characters still very much endearing. Incredible world-building mastered by the author, Eiichiro Oda; an ever-expanding universe of comedy, action and drama. Lots to love here! The content load might seem daunting to newcomers, but I assure you it is worth every panel. Recommended for 10 and older. Not incredibly gorey, but there is blood and fights do get intense. Innuendo played for laughs, revealing outfits; nothing all that bad though. The story revolves around pirates, so expect some smoking and a little yohoho with a bottle of rum!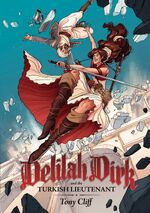 Some of y'all might recognize Delilah Dirk from Kazu Kibuishi's very own Flight anthology. The story of Dirk and her partner-in-crime, Erdemoglu Selim, is expanded greatly here; Tony Cliff works his magic and makes the two lead characters work brilliantly. Snappy dialogue and quick-paced action give this title a cinematic quality. If you like female leads that need no forced sex appeal and a swashbuckling thrill ride of historical fiction, check Dirk out! The second book comes out not too far off from Amulet #7: Firelight's release, so you might wanna grab it too. Recommended for 9 and older. A lot of Indiana Jones-esque adventure to be had here, so expect perilous situations. Nothing all that scary though.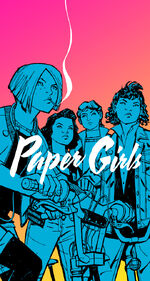 This one's fairly new and is a by-the-month release from Image Comics. You might recognize Brian K. Vaughan as a renowned comic book writer for Saga and Y: The Last Man, both of which are acclaimed titles that just didn't do it for me, honestly. Paper Girls, on the other hand, clicked for me within the first 38-page issue. I love Cliff Chiang's art and the colorist, whose name escapes me at the moment, did an excellent job adding a very vibrant touch. More female leads. '80s nostalgia. The kids talk like how I know kids talk in real life. Monsters? Pterosaurus? Time-travellers? It touches all the right keys to set the stage for a quasi-'80s sci-fi adventure. Fourth issue comes out this week. Recommended for 12 and older. There is cursing, but not excessive. Insults exchanged between youngsters. Hitting. Kicking. Gunshots. Blood. Really, the violence is PG-13. One girl, Mac, lights a cigarette every few pages. Not something to emulate. Don't smoke, kids!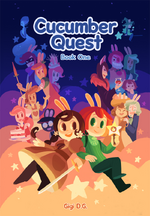 Cutesy characters, dazzling colors and an RPG-esque storyline bring Gigi Digi's magical webcomic to life. Cucumber Quest is really quite a great read and especially recommended for young audiences. The story initially gives the impression that it'll be a linear quest to stop evil forces, but it's turning out to be something more complex. Recommended for 8 and older. Not a whole lot of physical violence. Whatever action does take place is usually accompanied by an air of humor. Not very scary either.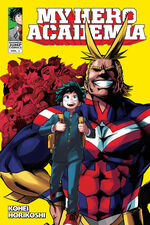 Honestly, I've only read the first volume, but it looks to have a good setup and I will be following the volumes as they are released by Viz. (The fan-translations kinda suck and they do not do the author justice, so I'm avoiding them. Plus, they're illegal.) Kohei Horikoshi has a very unique artstyle that has just the appropriate touch of cartoony zaniness. Superheroes. Super-powered students at a prestigious superhero academy. Underdog protagonist. Nothing truly "out of the park" in this first book, as it's mostly setup for the concept and storyline. However, it does look to be quite promising. Based on the first volume alone, recommended for 9 years and older.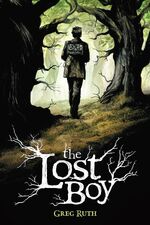 If you follow Scholastic's Graphix titles besides Amulet, you've probably seen this one in the lineup. Greg Ruth's art is realistic, but not excessively gritty. The two main characters have a pretty good dynamic for a first book. It revolves around a hidden magical world, much like Amulet, and there's also a bit of history behind all the quirky creatures and goings-on. No sequel confirmed at the moment, but the end of this book hints very strongly at one. I really am hoping we get to see more. Recommended for 8 and older. Scary critters. Peril. Allusions to one character's home life with a neglectful father.